Fast Clicker
Windows Utility to let you Click as Fast as you want on your Windows Computer is presented here. The Fast Clicker is a small Windows Application which can do Single or Double Mouse Click in speed of your choice. Whether you want your Mouse to Click really super fast or moderately fast, this Fast Clicker is totally configurable with visual and audible indicators to let you click with speed of your choice.
You can also try out another more sophisticated Auto Clicker which can also automate Mouse Clicking with configurable fast or low speed.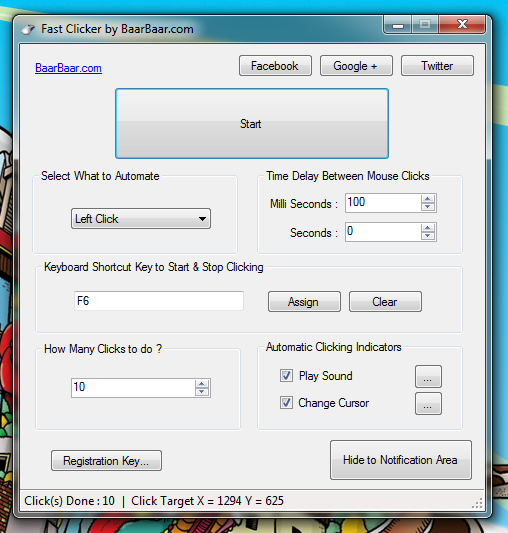 Download Fast Clicker
Download Fast Clicker on your Windows Computer with .NET Version 4 Installed. In case you are using Windows 10 or Windows 8, you do not need to worry about .NET, as .NET Version 4.5 is already installed on your Windows 8 Computer. The Fast Clicker presented here is a Free to try Software Utility.
The Fast Clicker will run only if you do have .NET Version 4 or Later (e.g. .NET Version 4.5) Installed on your Windows Computer. In case you are running Windows XP with Service Pack 3 onwards Windows Operating System like Windows 10, Windows Vista, Windows 7, etc, you can download and install .NET version 4 from Microsoft's Website.
Features of Fast Clicker
The Fast Clicker lets you Click as many times as you want with configurable speed. The Speed or Rate at which the Fast Clicker will click is determined by the Delay Amount you enter into the Software. Apart from Clicking, given below are other features of the Fast Clicker which can be of help.
The Main Window of Fast Clicker Remembers it's Position Automatically.
Left, Middle and Right Mouse Buttons of Mouse can be Automated with Fast Clicker.
Automation of Single Mouse Click and Double Mouse Mouse Click is supported.
Time Delay between Consecutive Mouse Clicks can be defined using a combination of Time Interval in Milli Seconds and Seconds.
Configurable Keyboard Shortcut Key allows you to Start and Stop Mouse Clicking.
Fast Clicker allows you to define the Number of Clicks after which it must stop Clicking Mouse Automatically.
The Fast Clicker allows you to Automate Infinite Mouse Clicks by entering 0 in the Click Count field of the Software.
Hear the Mouse Click with configurable Audio File which is played when the Fast Clicker is clicking.
See the Mouse Click with configurable Mouse Cursor from either an external .cur or .ani Mouse Cursor File.
When using Keyboard Shortcut to Start and Stop Mouse Clicking, you can Minimize the Fast Clicker or even Send the Mouse Clicker to the Notification Area.
All Controls of Fast Clicker displays helpful ToolTip to help you understand functionality of every control of the software.
Number of Clicks done by the Software and Mouse Click Target Location are displayed in the Status Bar.
Other features to the Fast Clicker can be added on request. In order to get an extra feature added to the Fast Clicker, write an email to the support team. In case you intend to use this Fast Clicker in a Game or any other Full Screen Direct X Application, you would need to run your Game or Application in Window Mode as few Games and Direct X Applications handle Mouse and Keyboard Differently.
How to Use Fast Clicker
In order to use the Fast Clicker, Download the Application Setup and Install it. Once you have installed the Fast Clicker, launch it from the Start Menu or Desktop Shortcut. When the Fast Clicker opens first time, it assigns a Keyboard Shortcut to Start / Stop the Mouse Clicking and Displays an Information Box. Given below steps provide a simple tutorial for using the Fast Clicker. You can alternatively watch Fast Clicker Tutorial in your own Media Player.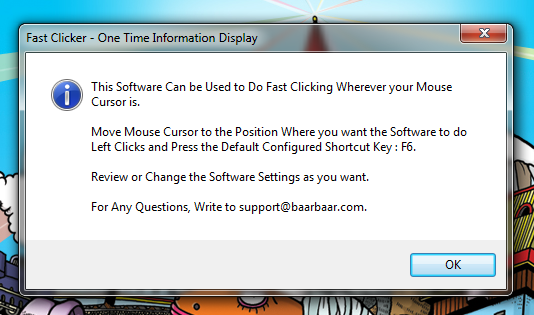 Configure a Keyboard Shortcut in Fast Clicker.
Hide the Fast Clicker to Notification Area by clicking on the button Hide to Notification Area.
Move the Mouse Cursor to the Position at which you want to Click Automatically.
Press the Keyboard Shortcut Key to Start the Fast Clicking.
This Fast Clicker Works on almost every Windows Operating System Like Windows 10, Windows XP, Windows 7, Windows 8 and will work even on Windows 8.1 with .NET 4.0 or Later Installed. On Windows 8, the .NET Version 4.0 is installed by default and hence to use this Fast Clicker on Windows 8 or Windows 8.1, you do not need to download or install .NET Library. One the Software Trial Usages Expire, you can Register Fast Clicker License by paying a one time fee of $5.00 only.
In case you are not sure about any of the functionality offered by the Fast Clicker, write to support@baarbaar.com and we will answer your query as quickly as possible.
---